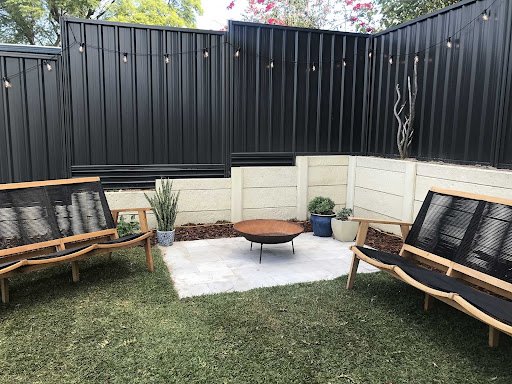 Adding a fence to a new or existing property is the perfect way to enhance the look of your home, whilst also improving its level of privacy and security but there are a lot of options out there to choose from! Read on below to find out what you should consider when choosing a new fence for your home. 
Choosing a fence style
The right type of fence for your home will be dependent on a number of factors like the style of your home, your security needs and how much privacy you would like to have. 
Steel fences are an affordable option when choosing a suitable fence for your property.  Steel is impact resistant and long-lasting which makes it an excellent choice for almost any property. Steel fences come in many different colours and styles and are great to outline the boundary to your property. At CMI we manufacture an extensive range of steel fencing supplies from premium COLORBOND® fencing materials. Our team of experienced steel fencing manufacturers will expertly produce all the materials required for your project, ensuring that they seamlessly fit together for fast installation. 
If you're looking for a more decorative option, then steel lattice fencing is a great choice. Available in a wide range of COLORBOND® colours, lattices will help to maximise your privacy whilst still allowing light in.
Factors to consider when choosing your fence
There are many factors to consider when choosing the perfect fence for your home. Here are a few of the king things you should consider. 
Budget
If you are thinking of adding a new fence to your property, you should consider your budget. We have a range of steel fencing options that can be customised to meet your needs. Certain materials such as glass or aluminium will bring up your total costs and another aspect to consider is labour costs. If you are unable to install your fence yourself, you will need to budget the costs of hiring someone to come to your property and install it for you. Set yourself a realistic budget and get a few quotes before committing.
Material
The material you choose for your new fence will have an impact on its longevity and the amount of maintenance and upkeep you'll need to commit to. For instance, if you live in a coastal area you need to be aware that if you choose a wooden  fence, then you may be more susceptible to rot or rust. A material like aluminium or PVC may be more suitable when considering the elements and how it may affect your new fence.
Security
Most people invest in a new fence because they are wanting to achieve more privacy and adding a new fence will provide extra security around your property. A big thing to consider here for extra security, is the height of the fence you choose. And if it's security you are wanting, choose a fence with durable material and a style that will stop outsiders from looking inside your property.
Need help finding the perfect fence for your home? CMI are the experts in COLORBOND® fencing solutions. Talk to us about your project requirements today for expert advice and a quote.