Design your home for the future – not the past. Introducing STAAC WALL®
STAAC WALL® Autoclaved Aerated Concrete (AAC) is a patented, contemporary, reinforced, light-weight, concrete cladding panel that has revolutionised the residential building market.
AAC is the new alternative to brick, allowing for not only an efficient build but providing long-term cost and environmental efficiencies for your household. Ausbuild prides itself on its ability to source the best products in the market and that has led to the inclusion of STAAC WALL® in our finishes. When compared with brick and other traditional masonry products, STAAC WALL® stands well above the rest.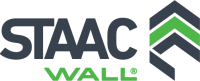 Features
High performing acoustic qualities
Better thermal insulation (feel comfortable no matter what the season)
Energy efficient
Stylish, modern aesthetic
Applications
External walls
Flooring
Party walls
Zero-boundary wall
Better Thermal and Sound Insulation
STAAC WALL ® has incredibly high insulation properties and provides an excellent soundproofing barrier for those noisy neighbours and even reduces the noise from room to room and between different levels of your home. Its thermal insulation leads to lower energy bills, improved ventilation and reduced humidity.
Your Design Options
Your home should be a reflection of you, and STAAC WALL® allows you to choose your own unique finish from an impressive range of modern colours, textures and patterns. STAAC WALL® is great on its own or combined with Ceraclad® ceramic-coated panels to create a dynamic double-story home.
Supreme Durability
You can be confident STAAC WALL ® will stand the test of time. It boasts a four coat render system to enhance its strength and offers resistance to water, rot, mould, mildew, insects and damage from gardening equipment. It's also non-combustible, making it the perfect choice to protect your home against fire.
Peace of Mind
STAAC WALL ® provides the comfort that comes with knowing your home is protected for years to come. Its CodeMark Certification, combined with a 15-year paint warranty and 20 year panel warranty, make it the smart choice in external cladding.
Eco-Friendly
STAAC WALL® panels are an efficient building option but are good for the environment too. They are produced using less energy than other materials and there's less waste because panels are cut on site.
Coatings To Suit Any Project

Our product is compatible with most major coatings companies and we have worked with these companies to develop systems to suit a variety of needs. Our range includes options for two coat, three coat and four coat systems.